Skip to main content
Song of Songs and Esther – Godless Biblical Books? - Rachel Montagu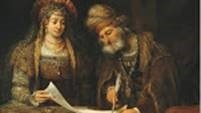 02 Jul 2021 to 04 Jul 2021 
Friday 2 July - Sunday 4 July 
Please arrive by 6pm, course ends with lunch.
Residential - £260 Non Residential £175
Residential Course R1321
'My beloved is mine and I am his'. 'The Jews had light and joy, gladness and honour'.
This weekend will be a chance to look at the text of Song of Songs and Esther. These are two very different books of the Bible, but between them they include wonderful poetry and skilled plot-construction, and they are both a joy to read.  We will see what we can learn from artists' interpretations of the book of Esther. We will consider how, although they are the only two books of the Bible not to include God's name and have in different ways been controversial in the Jewish community, they both have a significant role in contemporary Jewish life. 
Rabbi Rachel Montagu studied for rabbinic ordination at Leo Baeck College, London and Machon Pardes, Jerusalem. She has an MA in Biblical Studies and teaches Biblical Hebrew.