Skip to main content
Piano Hinge Bindings for Artists and Calligraphers - Josie Brown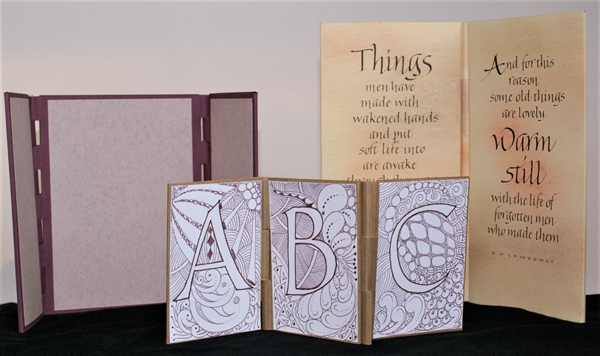 28 Jun 2021 to 01 Jul 2021 12:00
Monday 28 June – Thursday 1 July
Please arrive by 12 noon, course ends with lunch.
Residential - £390 Non Residential - £260
Residential Course R0621
Calligraphy and paintings inevitably have a visual uniqueness.  To complement this, these free-standing structures offer an alternative to having to frame artwork and open yet another dimension for individuality. Refining skills in accurate measuring, cutting and scoring will enable us to make folded portfolios with pockets as well as pages, which lend themselves to a multitude of uses. We will then make a triptych with dowelled hinges, using contrasting or decorated cover papers, resulting in light, adaptable and beautifully presentable objects.
Josie is a lettering and heraldic artist with a special interest in book making and using ancient techniques in contemporary ways.  She has taught calligraphy and related book arts for over 30 years and is passionate about helping people to achieve their creative potential in an enthusiastic but sensitive manner.