Skip to main content
Art Exhibition On Hospitality, Peace & Reconciliation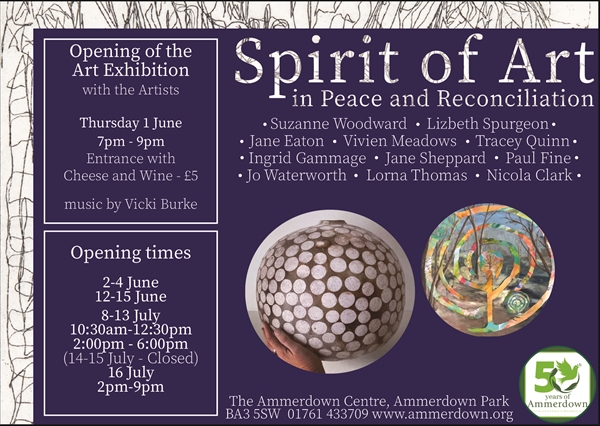 02 Jun 2023 to 04 Jun 2023 10:30 - 12:30
2-4 June
12-15 June
8-13 July
10:30am - 12:30pm
2pm - 6pm
FREE
No need to book!
Art Exhibition: Hospitality, Peace and Reconciliation in celebration of our 50th Anniversary
An open evening to meet the artists and view their work.
I asked a question… It's lovely to see exhibitions at Ammerdown, but what about an exhibition reflecting Ammerdown's Core Values?
So as a volunteer, I found myself curating one…
HOSPITALITY, PEACE, RECONCILIATION
Ammerdown believes in a shared world, where diversity and different identities are cherished, where all can live free from the fear of violence and abuse, with dignity and respect, and where differences and conflicts are transformed peacefully.
This is what a group of local artists have come to reflect on, following a call-out to Frome and other artists via social media and Make Art. Including painting, collage, and 3D work, from 'nest boxes' to ceramics, you will also find digital art and music. The individual artists share a wish to communicate about the plight of creation and refugees, and the desire to build peace and communication within an increasingly fractured world. This exhibition seeks to reflect Ammerdown's values and to communicate this in a host of different ways, approaches and media.
Viv Meadows