Skip to main content
Interfaith at Ammerdown
The Ammerdown Centre was set up almost fifty years ago as a centre for peace and reconciliation. From its inception, interfaith has been a significant part of its work: educating people about different faiths; offering opportunities for dialogue between different faiths; and providing a safe place for people to meet and reflect together. In 2016, the Ammerdown Interfaith Project (AIP) was set up to address faith and race related hate crime. The AIP was sponsored by the Methodist Church for three years and is currently sponsored by the Beeston Community Trust and the Ammerdown Centre.
Building on established connections, the AIP has established an extensive network of people in Bristol, Somerset and West Wiltshire who are of different faiths, actively involved in interfaith groups, working with refugees, and working in secular organisations addressing hate crime. During this time, the AIP has also connected to some local schools, local faith communities and those living in the area who are keen to learn about people of different faiths.
Through this network, the project has been able to provide a variety of ways for people to connect with each other, in the hope of breaking down prejudices and recognising our common humanity. These include Meet our Neighbours - an afternoon or evening to meet people from a different faith; listening to the stories of refugees; actively participating in discussions about different aspects of faith and intersectionality; learning from faith experts; visiting places of worship; enabling learning opportunities for schools to learn about different faiths, holocaust, genocide, and refugees; and a Book Club on racism.
Breaking News - Ammerdown becomes new Voice and Influence Partnership Multi- Faith Delivery Partner
Voice and Influence Partnership Faith Community Fund - APPLICATIONS NOW OPEN!
The Ammerdown Centre and the Voice and Influence Partnership are pleased to announce that the Faith Community Fund is now open for applications.

The funding is available to Bristol based faith focussed community groups. Four individual grants of £250 are available and four grants of £500 are available to be used to help address needs and issues that are currently impacting or affecting communities. This could be through a one-off piece of work, be part funding for a new project, or to support work you are already undertaking. Please note, the £250 grants may be applied for by one faith community; the £500 grants can be applied for by two or more faith communities working together.
Applications open on Monday 23 November 2020 and need to be submitted by the closing deadline 5pm Monday 11 January 2021.
Download the Application Information and Guidance and the Application Form here
Any questions? Please email interfaith@ammerdown.org
The Ammerdown Centre has joined the Voice and Influence Partnership (VIP) as their new Multi-Faith Delivery Partner.
The Voice and Influence Partnership is made up of leading equalities organisations and community champions from across Bristol who work together to make sure our diverse communities are part of local decision making. The partnership is for people who are: from a black, Asian or minority ethnic group, disabled, a member of a faith group, LGBTQ+, over 55. The Voice and Influence Partnership is led by The Care Forum. Read the Press Release here.
Thank you to all those who joined us for the first Multi-Faith Meeting of the Voice and Influence Partnership in November, 2020. It was fabulous to see such a diverse group of people representing the many different faiths and equality groups in Bristol. If you would like to receive the minutes from the first meeting or participate in the next meeting on  Thursday 14th January, 3-4.30pm    please contact interfaith@ammerdown.org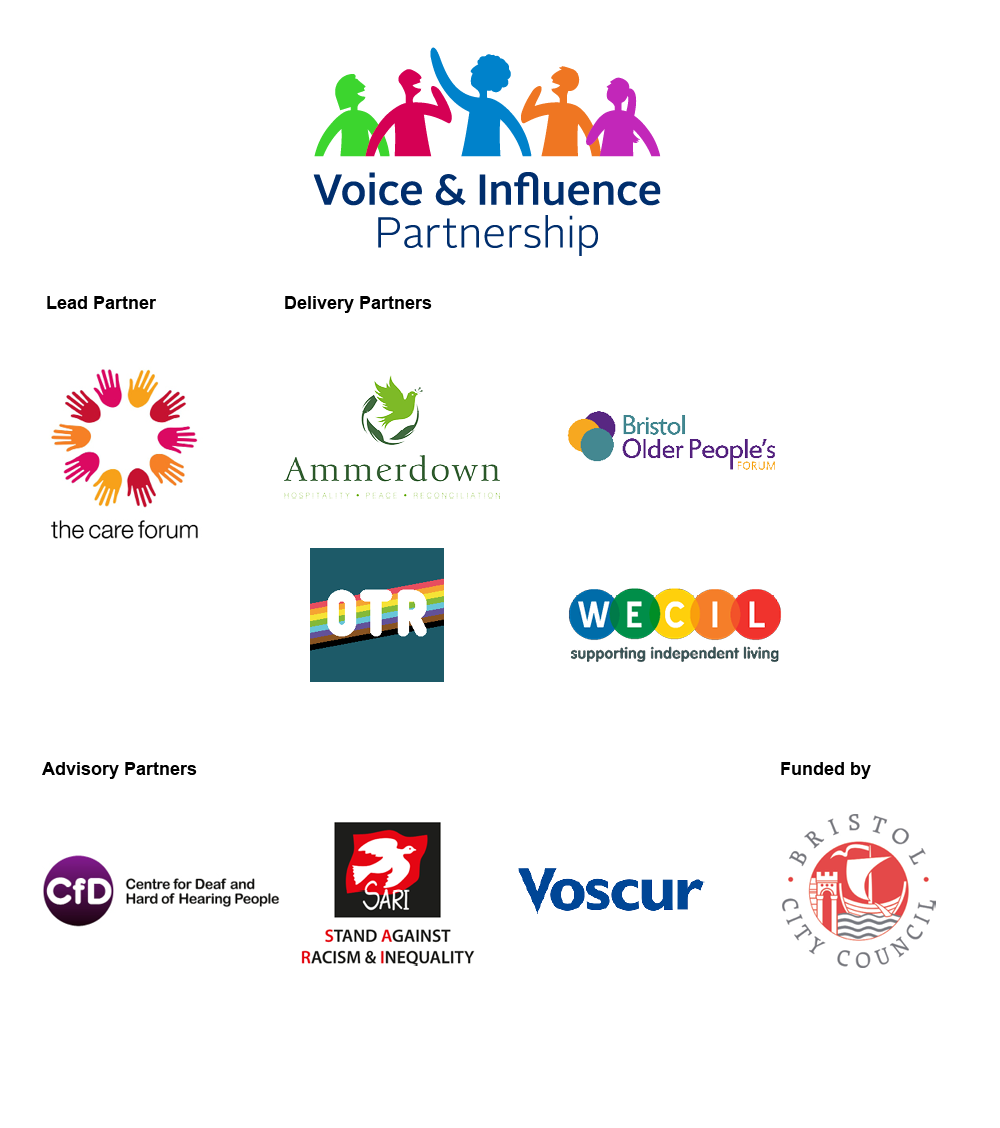 The Christian Muslim Forum meet at Ammerdown